So, I have this thing. I'm not crazy about vegetables. I really like them when other people make them, but for some reason I feel like I'm just not creative or good at making vegetables tasty. I usually try to get my veggies in in the form of salads...not a lot of creativity needed there. However, the other way I have been getting greens in lately is putting spinach in all of my smoothies. Legit. All of them.
This smoothie is what I have been drinking for my morning snack at school every day, around 8/8:30, so it's my M2 about 3 hours after breakfast. It's perfect because it's filling, there're TONS of good things in it, and it's delicious! This is my go-to right now and it's just the perfect way to get in extra greens during the day, especially if you aren't crazy about prepping veggies :)
The secret ingredient is this powder from Trader Joe's! It's not absolutely necessary but it adds SO MUCH to the smoothie, in terms of taste and vitamins/necessary stuff for your bod :)
1 heaping handful spinach
1 cup unsweetened vanilla almond milk
1 scoop TJ's Super Green Drink Powder (optional but recommended!)
How do you get in your greens each day? If you're interested in another green smoothie recipe, check out Erin's from yesterday!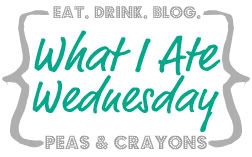 Would you put spinach in a smoothie? Have you tried this supplement from Trader Joe's?
If you have any awesome smoothie recipes please share them below! I'm always looking to mix it up!