All right, this is your warning: this post is a cluster. Seriously. I sat down to write my What I Ate Wednesday and realized that I'd taken maybe two pictures this week of my food. I started perusing my picture folders and realized in San Diego I had taken a bunch of food pictures but with the holidays never took them up. Then I had a few random meals over the rest of my break so....you're left with a jumble of What I Ate Last Month!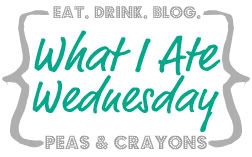 I think I put this up yesterday, but I keep eating this goat cheese salad. So delish!
Guac for one: one mashed avocado, salt, pepper, garlic, Greek yogurt, sweet potato chips from TJ's.
We ate at Opera in San Diego, a little French inspired eatery. I had the smoked salmon quiche and salad with mint chocolate tea that Sadia bought me. PERFECTION.
After breakfast we shared this pastry plate! YUM.
You know what's even more delicious than pastries? This PB&J vodka Sadia and Erin got me for Christmas because they saw me drooling over it at the liquor store. Seriously I will dive face first into ANYTHING PB&J...including this vodka. It was incredible....we drank it all our second night in SD!
A little Mediterranean plate in La Jolla...hummus, baba ganoush, and dolmades (stuffed grape leaves)
Bacon Guacamole Cheeseburger from Carls JR YES YES YES!!
And this green bean casserole I made for Christmas. I'm a huge green bean casserole fan! It's one of my favorite holiday foods. I found this recipe online while making Christmas dinner and wanted to share it because it was so delicious. Healthy? Not really. Scrumptious? Absolutely.
32 oz. package of frozen French-style green beans

1 (10.5 oz) can of cream of mushroom soup

8 ounces fresh mushrooms, diced

1/2 Tbs. butter

1 (5 oz) jar of Kraft Old English Cheese Spread (usually next to Velveeta)

1/4 tsp salt

1/4 tsp ground black pepper

1/4 tsp garlic powder

1 (3.5 oz) container of French's Fried Onion pieces (or more...more is always better)

1 (2 oz) real bacon bit pieces (I've made it with "real" bacon and it tastes better with the jarred bacon bits)
Cook green beans by directions on package and set aside in a colander; let drain for at least 30 minutes—try to get as much liquid out as you can. Preheat oven to 325 degrees.
Combine soup and cheese spread in a large, microwaveable bowl; heat in the microwave until both stir
together
easily.
Heat butter in a pan on medium; add mushrooms. Season with salt and pepper to taste; keep stirring. Mushrooms will eventually produce their own liquid; when this happens, turn up the heat a little bit so the liquid can cook off.
Once mushrooms are cooked, add to the soup and cheese mixture. Add salt, pepper, and garlic; stir to combine. Toss green beans into the mixture along withsome onion pieces and bacon bits; stir.
Spray a casserole dish with cooking spray; place mixture in dish*. Top with the rest of the bacon and onions. Bake for 30 minutes. Enjoy :)**
So there you have it....what I ate over the course of two weeks when I remembered to take pictures :) This might have been random but I smiled going through each picture...each plate of food has a memory attached now. The French restaurant was our first day in SD together and was so pretty and yummy...the vodka has lots of memories, some perhaps forgotten :) Green bean casserole was Christmas day with Steven, Erin, and one of his teammates. So, random but lovely. Enjoy your Wednesday!!
What is your favorite holiday food? What foods trigger memories for you?