So I am on a butternut squash kick. I love squash and tis the season, right?! I don't have a whole lot to share for today's WIAW but I do want to share this simple roasted squash recipe! Squash is the perfect side to any meal :)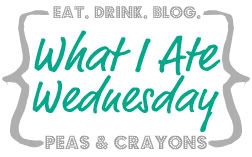 Roasted Butternut Squash
Maple syrupe (or whatever syrup you have on hand, which is what I had to go with)
Olive oil
Salt
Pepper
Cinnamon
Cayenne pepper
Preheat oven to 375 degrees. Peel squash and cube. Mix ingredients in a bowl, then line a pan with foil. Spread out squash cubes. Bake for 45 minutes.
___________________________________________________________________
So simple and delicious! I find that I continuously gravitate towards sweet foods, and this is a perfect case in point! The cinnamon and syrup give it a nice, sweet taste and the cayenne gives it just a little kick.
Here is the white chocolate peppermint tea I got from Teavana...I mean seriously, people, it's heaven. Just trust me. Actually, don't just trust me. Go get some!
Here are the only two foods I've taken pictures of in the last week but I think this represents my dinners at home perfectly lately! I have been craving omelets like no other, which is what the first picture is of. It's egg whites, chopped veggies, salsa, avocado, and goat cheese! So delicious!
Last night I had tomato soup, tea, and a piece of Ezekiel toast with olive oil and sea salt. It was perfect for a cold night watching American Horror Story with Sadia.
Eagle pose! I did 20 minutes of yoga last night. My hip feels like I might have stretched it a little too much but nothing serious....at least I hope! My leg feels better and better each day but I just want to be back to my old self already. Patience is NOT a virtue I have!
***Thursday will be the "What's In Your Fridge" Linkup! Show us what you keep handy :)
What is your favorite squash? Butternut, acorn, spaghetti....