Happy Wednesday! I went to make a normal WIAW post and realized I don't really have much to share. I did, however, want to share with you what I ate in San Diego.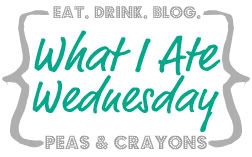 Let's start with the car ride. So on the way up I snacked on Oikos Greek yogurt, which was OK although I'm not a huge fan. I also had a banana and this Kind bar which is by far my favorite.
Then I ate this little thing....
Egg white sandwhich from McDonalds. Let me be clear about a few things. 1: I HATE drive through breakfast food, and not because it's so horrible for you. I just don't like bread stuff, so muffins aren't my favorite, but you don't have many options in fast food breakfast land; alas, this was my only food option for about 3 hours so beggars can't be choosers.. 2: I was under the impression that something that was advertised as their healthiest item and was made from "egg white" was going to be reasonably better than the rest of the food. Yeah, you know what happens when you make an assumption, right?
The protein's not bad. 21 grams. Cool. But let me give you a second to hone in on the fat grams.
TWENTY-SEVEN GRAMS. 27 grams of fat in that revolting little sandwich. I literally thought it was a joke. My boyfriend got a regular sausage McMuffin and his had SEVEN fat grams. Seven. And my egg white sandwich had twenty-seven. Someone please explain this to me. Not OK.
Random: saw this on Fbook on the drive and thought it was hilarious.
Anyway. Once we got to San Diego the eats were fantastic. We ate at The Green Flash in Pacific Beach and afoihwehiaujedfkjkg this was the best meal I've had in years, ages, lifetimes. That is an egg white seafood omelet stuffed with crab, shrimp, and scallops. YUM. With potatoes, wheat toast, and a sliced avocado. SERIOUSLY. I DIE. Best breakfast of my life and I ate EVERY BITE no joke. It was fantastic!
So, anyway, that's my lame WIAW I guess! I've been on an oats kick lately, though. I've been eating them for breakfast and for an after-school snack. I'm not a coffee person but we do have some coffee that's been sitting in our cabinets since my family visited this summer (does coffee go bad? This tastes fine...).
Anyway, I wanted to figure out a way to use it so I decided to throw it in my oats. Sounds weird, but it really did turn out delicious. I've been eating this the last few days and it is the perfect energy booster in the afternoon, right when I'm really ready to pass out on the couch!
1/3 cup water or almond milk
1 scoop chocolate protein powder
1/2 tbsp dry coffee grounds (mine was caramel chocolate)
Mix all ingredients in bowl. Microwave for 1 minute. Voila!
Top with healthy chocolate sauce: unsweetened cocoa powder + Stevia +water whisked together
_________________________________________________________
So easy and so delicious. I'm a sucker for anything that will satisfy my sweet tooth!
Sad days...my leg is hurting again. Not bad, not limping, not anything horrible but it hurts after my yoga session. I'm taking another few days off. Maybe weeks? It REALLY sucks but I think I'd rather take 4 more weeks off right now and then get back in with a completely healed leg than stalling in this same semi pain for months. We'll see how it feels tomorrow.
What is your favorite oats recipe?