So Sunday I had a craving and it was just SO necessary to fill. Do you guys ever get cravings for something and you just can't get it out of your head until you have it??? Most of the time for me it is sweet stuff but Sunday, it was Asian food. More specifically, I needed sushi. Like, really needed it. But alas, I'm a poor school teacher and the lunch menu at Ra was way cheaper so I settled for this Bento Box and you know what? It did the trick.
I have Sunday and Tuesday's eats on the menu for today's What I Ate Wednesday! Thanks Jenn for hosting!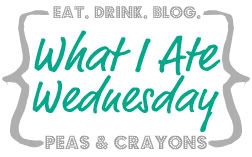 So I got the terryaki Bento Box and it was just awesome. A salad, egg roll, pot sticker, veggies and rice did the trick.
A green juice from Trader Joe's that I've seen floating around Instagram and healthy eating blogs lately. Also, this was my first trip to Trader Joe's! Holy cheap organic food! can't wait to go back.
Tuesday's school meals= Balance Bar (cookie dough um YES), a pear, carrots and bell peppers with "ranch" which is Greek yogurt mixed with a ranch seasoning packet (not the whole packet just about 1/2 tbsp), and a sweet potato with Greek yogurt and salsa and a chicken breast for lunch.
When I got home I decided to FINALLY make these chili lime chickpeas! I meant to try this recipe out weeks ago (ok maybe like a month ago) and life got ahold of me and it just didn't happen. Well at the grocery store Saturday I saw garbanzo beans and just grabbed them and ran!
Chili Lime Roasted Chickpeas
One 15 oz can of chickpeas
Rinse and pour out chickpeas onto a paper towel. Dry off. Mix other ingredients in a bowl with chickpeas. Preheat oven to 400 degrees. Cook for about 35-45 minutes!
I put mine in for 40 and as you can see a few around the edges got burnt, but they still all tasted so good! They're a perfect crunchy snack to grab and go.
-I topped the night off with a few indulgences....including the most amazing ice cream on the planet!! I think Steven was hiding this from me in the freezer because I had no idea it was there until tonight. FYI mint and chocolate is IT for me. My favorite. MY FAVORITE. I can't ever say no. Seriously if you are looking for a birthday present for me get me a York peppermint patty and I'll forever be obsessed with you. I had about 5 spoonfuls of this and didn't feel the least bit bad. Heaven.
-Then I had a bath with my new Lush bathbombs!! I got this gold sparkly one and Big Blue, which is meant to replicate sea water, with salt, seaweed pieces and a blue tint. The guy who sold them to me told me to mix them together to make mermaid water and he was absolutely correct! My water was blue and gold shimmery with the seaweed pieces and I totally felt like a mermaid. Thanks Lush!!
Also fun fact about Lush: all of their products are vegetarian and 80% are vegan. They use only organic real food products and fight animal testing. I felt so happy buying these from them!
You're welcome. And do it!