Tucson is finally turning over a new leaf :) The wind is blowing, the temps are in the 90s and today I wore boots for the first time! Granted I might have jumped a little soon with the boots but I wasn't uncomfortable in them. 90s is pretty decent here. I'm just glad we don't have any more 110 degree temperature days in our future. I am sooooo ready for fall, people!!
What did I eat today? Well let me show you! What I Ate Wednesday....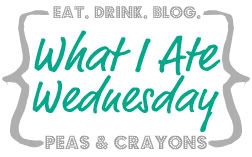 Carrots and bell peppers, strawberries, a cut up Honeycrisp apple for school snacks
The most amazing thing to ever grace this earth....a mint chocolate Balance bar. Balance bars are my new favorite, btw. Seriously, so super delicious and way cheaper than Quest. Sorry Quest bars, I love you to death but Balance bars have stolen your spot in my heart for a little bit!
Vanilla macaroon and banana bread granola with almond milk
And a family dinner with my best friends :) Turkey muffins, potatoes, broccoli and cauliflower, salmon and a little wine. Perfect end to a great day!
For breakfast I have been having this delicious little thing and can you blame me? It's like Reese's in a bowl!
1/3 cup oats cooked for 1 minute in microwave with water
1/2 tbsp unsweetened cocoa powder
Topped with 1 spoonful melted PB or almond butter
I mean hello heaven. Seriously. Heaven.
On a side note, I am SUPER excited to announce that my Fbook followers hit over 100 yesterday! I am so super pumped that at least 103 of you like my blog enough to let me fill up your newsfeed with healthy stuff :) In celebration, I am going to be doing my very first GIVEAWAY EVER!! I am so excited! I'm not popular enough to have any companies send me anything just yet, but I am going to be putting together a healthy goody bag for one follower to have shipped to their door! I am going to Vegas tomorrow so I will be announcing the giveaway contents and setup on Tuesday. Thank you again to all of you who actually read this. I really appreciate any and all support :)
Have a fabulous Wednesday! I have a great post scheduled for tomorrow while I'm up in the air, and then I'll be back regularly on Monday. Enjoy your week/weekend, chickadees!!