Happy Wednesday!! Why is it not Friday yet?! I need the weekend. (This is me every day, btw....just waiting for Friday).
Time for another edition of What I Ate Wednesday, hosted by Jenn at Peas and Crayons!! I've been pretty bad about taking pictures of one full day of meals so here are a few things I've been munching the last few days.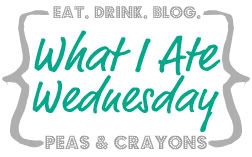 This AMAZING chocolate PB spread, made in Pacific Beach, San Diego CA!! Only my favorite thing to eat from my favorite place in the world :)
Green Juice: Celery, lime, cucumber, zuchinni, lemon, green apple
This delicious fruit and yogurt parfait that I made! (Recipe to come tomorrow)
Not very organized for a WIAW post but hey, life is busy! I just keep forgetting to take pictures :( Oh well.
Not much new to report here...just keeping busy with school, and with a new book. I finally started reading Dark Places by Gillian Flynn and it is weeeeeeird!! Short post today; I'm on the go! Tomorrow I will have the parfait recipe up. I'm also planning on a salad recipe and smoothie recipe later in the week so stay tuned for that.
Thanks to all of you who are following me and read my random recipes/ramblings. I really appreciate the support! This blog is in the very beginning stages now but I have plans and dreams for the future and having people paying attention right now is so helpful and such a good feeling. Thank you to YOU reading this right now :)
Rodney got his first BarkBox today! It was drenched in front of my door but luckily all the goodies inside were still good. I'm so into these monthly subscription boxes (KlutchClub, Naturebox)...they're so exciting to get. Rodney's definitely won't be monthly though....he won't eat all these treats for a couple of months. He's just a little guy...
And a sleepy guy! What a goober. I looked at this picture on my phone at work today and just started laughing out loud....he's seriously the best thing in my life. Sorry, I know he's a dog, but it's true. Look at that face!!!
Have a fantastic Wednesday ya'll!!!