It's Hump Day again! The week is flying by. Thank goodness. I'm reading for another edition of What I Ate Wednesday, sponsored by Jenn at Peas and Crayons :)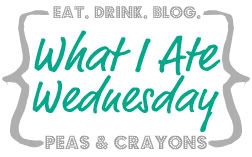 M2: Panda Express! I got steamed brown rice, veggies as a side, and then lots of veggie dishes, plus a little shrimp and beef. DELICIOUS.
M3: FROYO!!! (yes this is my Sunday WIAW...I kept forgetting to photograph my meals Monday and Tuesday.)
M4: Salad with gorund turkey, goat cheese, strawberries, blueberries, and spinach with spring mix.
M5: Tuna salad with hot sauce, sweet potato with almond butter
And M6: This delicious vegan choco chip cookie from Whole Foods. Sunday was obviously a day of sweets...gotta live a little :)
I'm having a difficult time getting back into the swing of things with school. My sleep is off and my meals aren't on perfect timing yet. It's a work in progress. However, this morning I looked in the mirror while I was getting ready and realized something pretty awesome: I like the way I look right now.
Since starting James Wilson's Body Earned Program I have shrunk in inches and gained a pretty good amount of muscle. For the last 4 years or so I have constantly felt like there was a part of my body that needed to be worked on. Mainly, my arms. I've had a horrible relationship with my arms. I hate them. I've always thought they were fat on top and then got skinny in my forearms, which looked so weird to me. Even when I started eating clean a year ago and felt so much better about my body, I would stare at my arms in loathing in the mirror. It was ridiculous. I realize now that there's never really been anything wrong with my arms but that has always been MY body part that I've wanted to change.
Yesterday I realized...I love my arms! Body Earned has given me more definition and tone and made me appreciate my body SO much more. I'm so grateful for all the function I have and the things that my body is able to do. And it looks good! As I got dressed I actually just felt so comfortable and pretty and, most of all, proud of all the work I've been doing. My nutrition has been a positive work in progress for over a year now and since lifting weights my fitness routine has taken huge leaps and bounds and I can tell. Even if no one else can, I can, and I'm really proud of the way I look right now. I guess it might sound silly but seriously, it's HUGE. I've never thought I was seriously overweight but right now I feel like my outside reflects my inside. It's awesome. I feel like most females will be able to relate to how important this is to me....and how liberating it is!
Anyway....tomorrow I will be putting up a blog post about making healthy choices while you're eating out. This is something that I struggle with- knowing the right choices to make, but wanting everything fried and smothered in cheese- so I think many people will be able to relate. Have a great Wednesday!! :)